practical considerations
Content for this page is abridged from the TADLP "Practical Considerations for In-House Development of Distributed Learning and Mobile Learning" paper. This page provides guidance for Army DL managers and staff about what to consider when contemplating the use of an in-house development model rather than continuing the current practice of acquiring contractually developed (outsourced) DL courseware. TADLP maintains a neutral position and does not advocate in-house development over contract developed courseware. The focus of this page is on the minimum requirements to establish and maintain a viable in-house development team in a typical Army DL environment.
essential requirements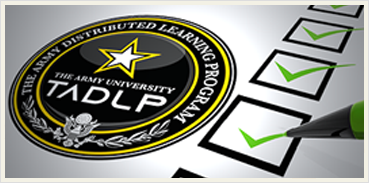 The minimum essential requirements must be capable of supporting quality content design and development efforts, though proponents may find that in-house development may be best suited for lower-level content and interactivity (e.g., knowledge based activities). Contractual services may still be required (or preferred) for more intensely interactive content (e.g. games and simulations). As a consequence, any shift to in-house development by a proponent or agency may become a mixed operational model, relying on both in-house and contractually developed content.
In-house content is required to meet identical compliance and configuration standards as contractor developed content.
reference links
the in-house development process explained

GETTING STARTED: INITIAL QUESTIONS
In order to develop and maintain an in-house development effort, training and education managers must understand the scope of this undertaking and answer the basic question of why they are pursuing this path. The first decision points for in-house development should involve a reasonable examination of the goals and objectives of such a move such as:
Why would in-house development be advantageous for the Army?
What problem(s) would in-house development solve for our organization?
Would in-house development produce better, more effective DL products?
Would in-house development be more cost efficient than contracting for courseware?
All of the above questions, and associated characteristics of the project should be analyzed when trying to determine the best course of action for your particular school or agency. Some decision factors to consider might include:
Flexibility
The capability to design and develop DL products for multiple audiences, purposes, and platforms, depending on current proponent requirements, and the capacity to shift development priorities if proponent needs change.
Responsiveness
The capability to respond to changing proponent needs for DL products, especially the capacity to rapidly update and modify existing DL content and learning materials based on lessons learned.
Timeliness
The capability to provide specific, distributed learning products within a relatively short timeframe (1-4 weeks?) as opposed to the extended timeframes associated with contractual products (typically, 4-6 months or longer).
Cost containment
The potential capacity to save money on DL products by producing them internally, especially as staff becomes more proficient over the span of several DL projects, i.e., to achieve a better return on investment (ROI) for DL products over time.
Design options
The capability to develop DL products that reflect different approaches to design, instead of relying on a single, contractor-provided design template –e.g., to help proponents create learning objects that can be re-used in different DL products.
Availability of new tools
The capabilities of new, user-friendly, content authoring tools allow in-house staff to create and develop quality DL products not previously obtainable by non-programmers such as the Enterprise Content Development Capability (ECDC) tool.
FURTHER CONSIDERATIONS
The proponent school that does make the in-house development transition should be mindful that ALL aspects of the TRADOC 350-70 regulation still apply, and now, may become the responsibility of local DL operational staff rather than contracting staff.
For example:
Training Requirements Analysis System (TRAS) documents must still be completed for DL products produced in-house: an Individual Training Plan (ITP), Course Administrative Data (CAD), and a Program of Instruction (POI) as appropriate are required for Army training and education products.
Create and update the Course Management Plan (CMP) for in-house DL products.
Comply with TRADOC Quality Assurance standards.
An in-house development team must meet all standards and specifications, such as SCORM (if required) and Section 508 Disabilities Act requirements.
Updating Training Development Capability (TDC) may be required as well as the catalog information for the Central Army Registry (CAR).
A search of the Defense Imagery Management Operations Center and other content repositories is required before development to ensure there is no usable content that can be reused in the new project.
Testing strategies must follow appropriate guidance from TRADOC Pamphlet 350-70-5 and validation must follow appropriate guidance from TRADOC Pamphlet 350-70-10. TRADOC Pamphlets are available here. All web-based content must follow Department of Defense Instruction 1322.26 available at the DoD Instructions portal.
Please Note: In-house content is required to meet the same compliance and configuration standards as contractor developed content.