organizational structure
In April 1996, General Reimer, the former Chief of Staff of the Army (CSA) approved the concept plan for The Army Distributed Learning Program (TADLP), now Distributed Learning System (DLS), to provide overarching long-range programming, planning, funding, and acquisition strategy necessary for distance learning to become a pillar of Army training. DLS is an Acquisition Category 4 Army Component (ACAT 4AC) Major Defense Acquisition Program with Office of the Secretary of Defense (OSD) oversight and works under the Army Acquisition Executive and through the Army Chief Information Officer, G-6 and Program Executive Office Enterprise Information Systems (PEO EIS) for Standard Army Management Information Systems.
HQ Training and Doctrine Command (TRADOC) is responsible for managing courseware content and development, while execution is managed by DLS. TRADOC and Commanders at Army Centers and Schools coordinate with DLS on implementation methods for courseware execution requirements. They execute implementation methods within their respective commands, identify and prioritize command requirements for Distributed Learning courses.
Today, VPDE develops and helps to provide access to individual and collective training and self-development courses to Soldiers and units, anywhere, anytime using multiple means and technologies.
Today's Office of the Vice Provost for Digital Education (VPDE) is a vital arm of the Combined Arms Center and Army University.
VPDE key functions
VPDE KEY FUNCTIONS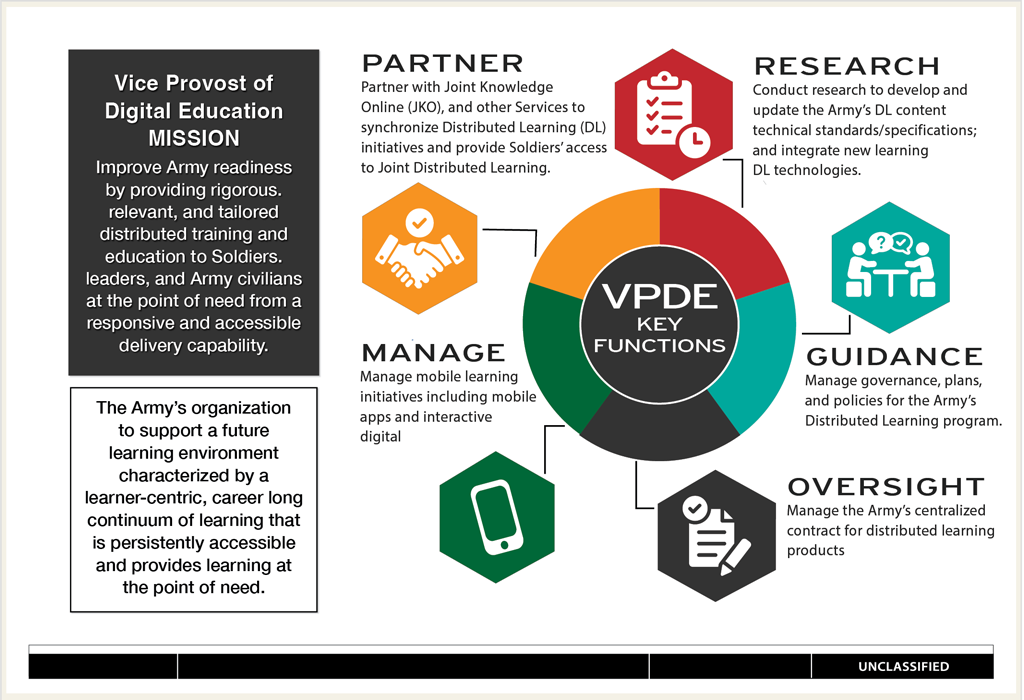 FOCUSING ON ACHIEVING THE ARMY's GOALS
The Office of the Vice Provost for Digital Education (VPDE) supports the Army goals of improved individual and unit readiness, less disruption of Army families, standardization of training and training management across the Army, and cost savings/cost avoidance for training events, while maintaining the quality of the training experience, at no cost to the Soldier or unit.
vpde overview: organizational chart (2023)
TADLP Organizational Chart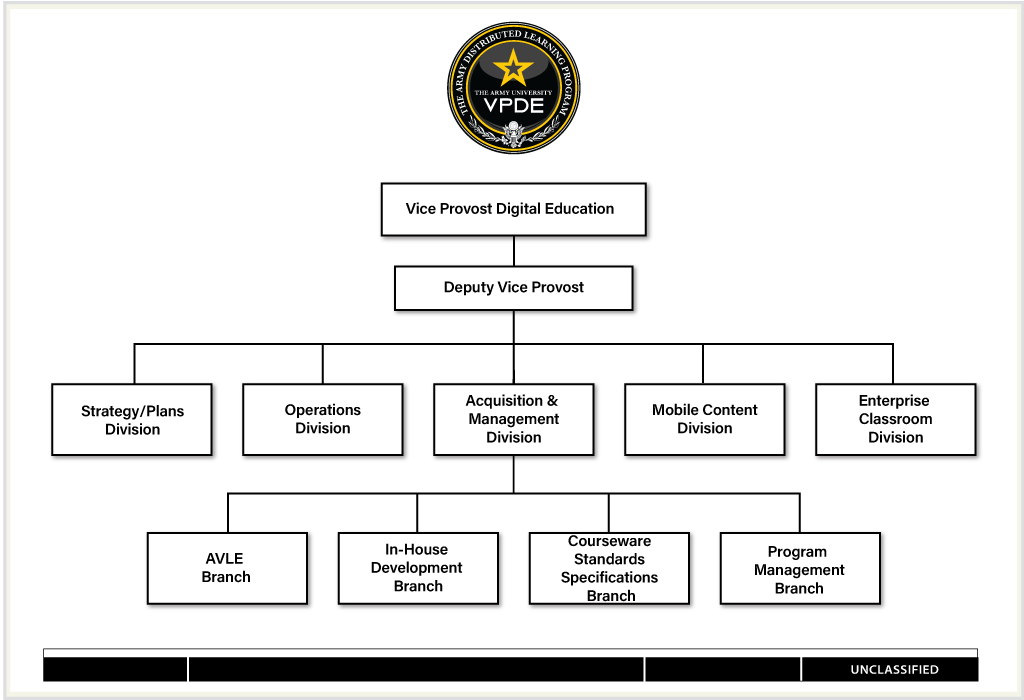 The organization is four divisions with oversight provided by the Vice Provost for Digital Education (VPDE). The divisions are as follows: Strategic Plans and Policy, Acquisition and Management, Courseware Standards and Specifications and the Mobile Content Division. VPDE employs a group of highly skilled professionals dedicated to educating service members and DoD leaders around the globe.