DISTRIBUTED LEARNING 101
Distributed Learning or "DL" is a modern, proven instructional model used by the Army to regularly deliver individual, collective and self-development training and education to Soldiers, leaders and Army civilians anytime, anywhere. Instructors can be blended in to the learning or content can be delivered as stand-alone products.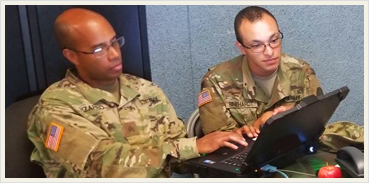 The Army's Distributed Learning Program (TADLP), leads the way in designing and creating distributed learning products for Soldiers using the latest technologies to distribute and deliver learning, training and certification across a wide array of portable devices depending on the needs and location of the user. TADLP products are user-friendly, pliant and adaptable to the complex and often unique circumstances in which Soldiers live and work.
reference links
DISTRIBUTED LEARNING DECISION CRITERIA

1. Is your content stable? Are the materials subject to frequent changes and updates?
If the answer is no, then DL may not be the right choice for you. If the content is subject to frequent changes and updates, consider building the course on an LCMS such as the Lifelong Learning Center (LLC) where content can be updated by the course manager. Contracted DL may require more time than other options.
---
2. Does the content require a student's sense of taste, smell, or touch?
Taste, smell and touch are not features of Army DL although with the use of special input devices such as haptic tools, the sense of touch can be replicated. Generally, if the proposed training requires any one of these three senses, DL is unlikely to be your best choice.
---
3. Does the content require an instructor to lead or facilitate the course?
Research shows that instructor's contact is the most important factor contributing to DL student success. Contact must be regular (on scheduled activities) and substantive (have real purpose or objectives) to be of true value to a student-learner.
---
4. Does the content require the learner to interact with other learners?
If yes, consider a blended approach or delivery via the Lifelong Learning Center where students interact via social media tools or within course threaded discussions. Student interactions enrich the content by allowing them to share background and experiences.
---
5. Does the assessment require a proctor? Someone to provide oversight on location?
Web based assessments can be secured using a password and login or via Common Access Card (CAC) authentication to access exams. Although not 100 percent secure, they are considered trustworthy as long as the information isn't shared by students. If an on-site proctor is needed then DL may not be the best choice. Consider sending students to an education center or classroom for proctored exams. There are some applications that can be used in the LLC that secure the assessments and should be considered when making this decision.
---